Easy to make and add flava to rice. This rice recipe is so versatile, it's more of a method than a recipe. Puerto Rican Rice and Beans recipe with sofrito, or Puerto Rican Rice and Pigeon Peas (arroz con gandules).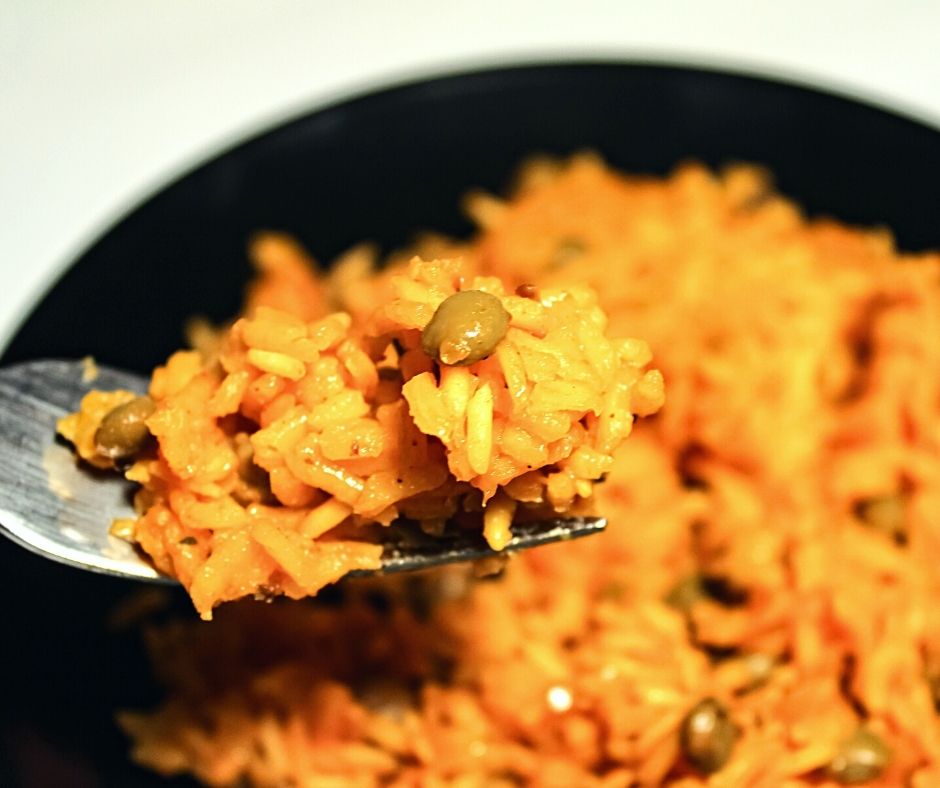 Now I like to give the recipe card at the beginning of my posts to make things easier for you, but I want to explain that underneath this rice recipe card is the concept of this dish, and this is super important and worth the read because it shows you a method that you can use beyond Puerto Rican Cuisine.
The versatility of rice is amazing, so I give some other flavor ideas under the versatility heading, and then the method I get into later is key to using this concept for whatever you got in your cabinets, or whatever your kid is willing to eat. I never made my rice like this until I met my in-laws, and now I don't make rice any other way.
If you want a more traditional method to making arroz con gandules, or rice with pigeon peas, Meseidy at The Noshery shows you how she makes this, and she includes special tidbits like using bacon grease to add flavor, rinsing and toasting the rice to make it more fluffy, etc.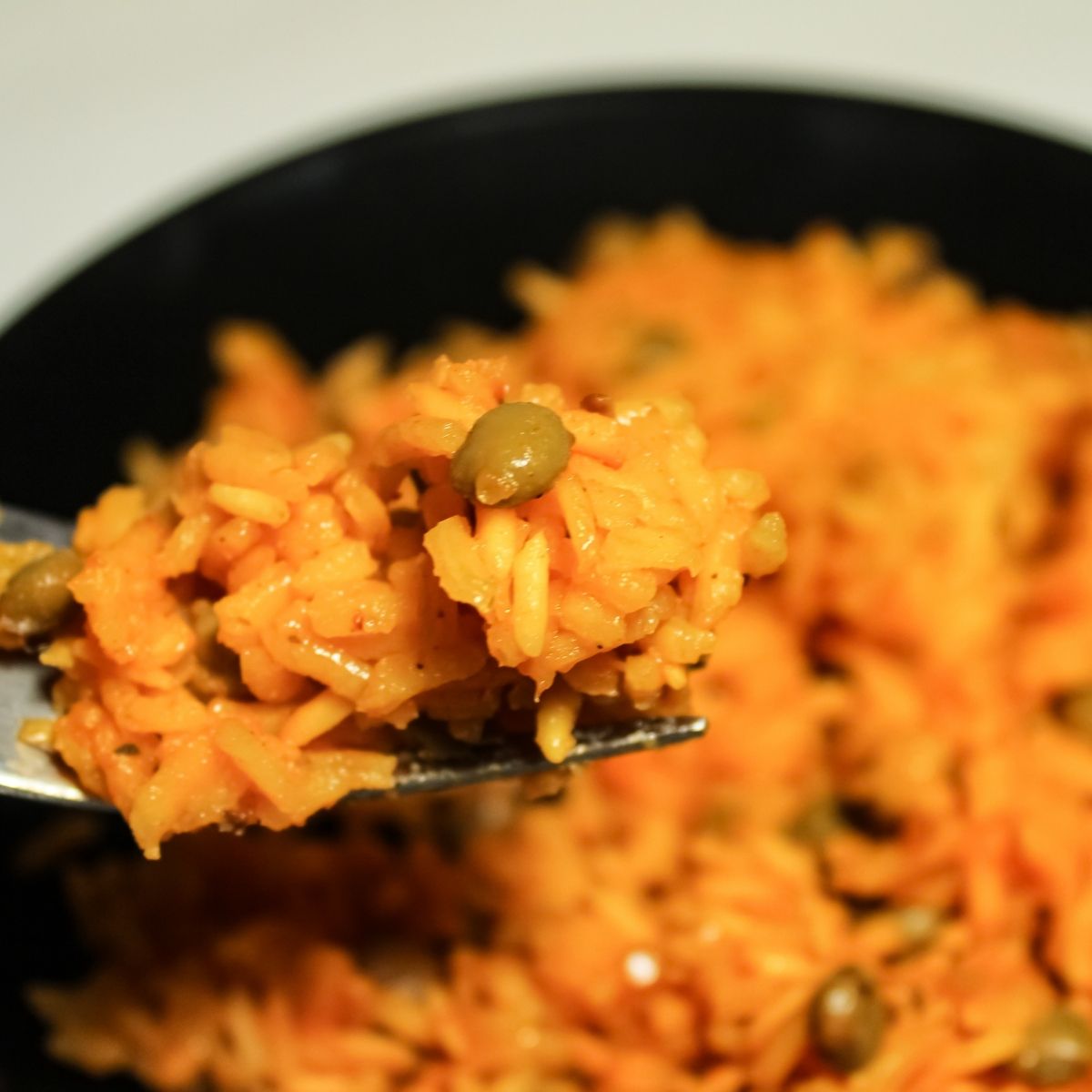 Rice & Beans
Puerto Rican side dish ... Rice with flava
Ingredients
16 oz. Package of Cubed Ham 
1 medium onion - chopped
1 green pepper - chopped
1 TBSP of minced garlic
2 fistfuls of fresh cilantro
4 TBSP of Sofrito
1 packet of Sazon
1 can of red beans or pigeon peas
2 cups rice (not minute rice, regular rice)
4 cups water 
Adobo
Instructions
In 2 quart non-stick pot (one you have a lid to), over medium high heat, cook the ham cubes, onion, green pepper, and garlic, and season with Adobo like you are adding salt for taste, for about 5 minutes stirring occasionally.
Add Cilantro, Sofrito, Sazon, Beans or Peas, Rice and Water. Stir.
Bring to a slight boil.
Reduce heat to low, cover with lid, and simmer for about 20 minutes.
While simmering, you can choose to stir regularly to avoid rice sticking to the bottom of the pan; however, many people like the crispy burnt rice on the bottom of the pan, what is called Pegao, pronounced Pig GOW (rhymes with now, not grow).
Notes
Substitute Ingredients

For Adobo, use a little garlic salt, pepper, and oregano.

For Sofrito, mix 1/2 onion, 1 and a half green pepper, 1 red pepper, 2 TSP of Minced Garlic, some Adobo, a fistful of cilantro, and a little oregano into a blender (or food processor) until well blended. Add a little olive oil to help preserve it. Store in fridge.

For Sazon, mix equal amounts of ground coriander, ground cumin, paprika, and garlic salt.
Nutrition Information
Yield

4
Serving Size

1
Amount Per Serving
Calories

424
Total Fat

9g
Saturated Fat

1g
Trans Fat

0g
Unsaturated Fat

4g
Cholesterol

73mg
Sodium

1289mg
Carbohydrates

50g
Fiber

7g
Sugar

4g
Protein

36g
Where did I get this Recipe for Puerto Rican Rice and Beans with Sofrito?
Actually, I think I started off from the back of Goya Pigeon Peas can. But then also tweaked with the way my ex-mother-in-law makes it and also tweaked occasionally based on what I have on hand.
The original recipe (and picture I share) is with red beans, but the traditional way to make this is with Pigeon Peas (supplemental picture). But, being state-side, I can't often find Pigeon Peas, and red beans are like 50 cents a can at Walmart.
I would say, if I were making this for a Puerto Rican friend once a year, I'd seek out Pigeon Peas. But if you're making this once or twice a week, or more, then whatever you can get your hands on.
Ingredients
This recipe is super versatile. So instead of listing ingredients (that's in the recipe above), I'm going to list out the concept.
Basic Requirements
Rice. You can use cauliflower rice, or anything in the rice section like quinoa. But for the most part, the cheapest white rice is perfect. I prefer a 20 minute rice for the method I'm about to explain here (as opposed to Minute Rice or 5 – minute rice, or microwavable rice). So when I say 20 minute rice, I mean the bag of white rice from Great Value for $1.28.
Beans. You can use any beans. It is strange with black eyed peas, but still good. Usually I use either Pigeon Peas, Black Beans, or Red Beans. But any can of protein legumes is fine. I do find the canned beans are easier to work with. Traditionally, you use Pigeon Pease (arroz con gandules).
Seasoning. I get into the next section a bit on seasoning options, but anything you got that can add flavor to the rice and beans is great.
Other ingredients you can add
Meats. Most of the time I use ham cubes if I add any meat, but you can add chicken, lunch meat, salami, any meat that sounds like it would taste well with the rest of the recipe. But this is super good with ham.
Vegetables. Again, you can potentially add any vegetable you want to this. For me, I usually stick to onion, red pepper, and green pepper when I go Puerto Rican Flavor.
A Little about the Puerto Rican ingredients…
So some of these ingredients can be hard to find.
Adobo
Sazon
Sofrito
Cilantro
If you are new to Puerto Rican cooking, I highly recommend reading my Flavors of Puerto Rico post to help guide you into the types of ingredients that are super common in Puerto Rican Cuisine. I personally love it because the food feeds an army, is affordable, is delicious, incredibly versatile, and is easy to make. Plus, my kids develop taste buds for their cultural heritage.
The important ingredients to find are Sazon (it's in a box, and they are just little packets of seasoning, and they are generally stored in "International Food" sections) and Adobo (it's in a spice bottle you sprinkle, and it can be anywhere). Badia brand Adobo is also good, but I generally find Goya products easier.
The beautiful thing about these two seasonings is that the Sazon is a multi-purpose seasoning and can add flavor to anything. My kids will eat cauliflower with Sazon.
Adobo can be used on anything, but it's especially good with meats (especially white meats). One of the easiest breakfasts is to scramble eggs and add Adobo and maybe some ham, onion, peppers…
Then there's also Sofrito.
The best sofrito is homemade, and a lot of people make it very differently between each other. My ex-MIL's recipe for Sofrito is on the Flavors of Puerto Rico Page (along with substitute ingredients for Adobo and Sazon).
But the easy button is to just buy the jar if you can find one…
They have a red one and a green one. It doesn't matter which one you go with, but I prefer the green one if I can find it.
But honestly, it's really unnecessary if you add the ingredients found in sofrito to your arroz con gandules outright. So we are talking…
onion
garlic
green pepper
red pepper
cilantro
oregano
tomato sauce (if you wanted the red one)
But I have been known to cook this with just rice, a can of beans, and sofrito in a jar.
Versatility Options – Easy Rice Recipe All the Way Around
Let's say you didn't want to go Puerto Rican flavor. This is still a super easy method to make rice, and flavor it any which way you want to go with it.
You can do rice, northern beans, chicken cubes, chicken bouillon, peas, carrots, celery…
You can do rice, black beans, stew beef, beef bouillon, steak seasoning, mushrooms, potatoes, and carrots.
Or rice, black beans, stew beef, onion soup mix, potatoes and carrots.
Or rice, mild Italian sausage, pepperoni, tomato sauce, Italian seasoning, garlic, green pepper, onion… I don't know if that one would be good with beans.
But the point is, the method for making this is so versatile, you can add whatever you got in your pantry. You can add whatever your kid is willing to eat. And you can make this with very little money because rice is cheap.
Method
Basically you throw all the ingredients in a pot, and simmer until the rice is cooked.
It's like following the directions on the rice package, but adding a bunch of stuff. But I like to do things in a certain order I'll get into in a minute.
For 2 cups of rice, a 2 quart part is sufficient. I prefer nonstick. But if you're going to double up, you'll want a larger pot. I have been known to squeeze 4 cups of rice into a 2 quart pot.
I have found though, with a bag of white rice, the best way to go about this is to take a pot, and go about it in this order…
Meat
Raw Veggies
Water
Other ingredients
Step 1: Meat
First add any meat to the pot on medium high heat. You can add a little olive oil if you'd like. I don't usually do that.
Let that cook for a minute. I usually chop veggies while the meat cooks.
If you are using really raw meat, you want to cook that thoroughly right now.
If you are using frozen pre-cooked meat, I don't think that this matters as much as just thawing it out, but I would make sure that 20 minutes in hot water will cook it through. I don't usually use frozen meat here. I use that in an electric skillet with cauliflower rice, and usually 20 minutes on simmer will cook it through.
If you are using refrigerated pre-cooked meat, like ham cubes, then really 3 minutes is enough, but you can go up to 15 minutes. You don't want it to burn. But a little searing is ok.
I usually season the meat with Adobo when I add it.
Step 2: Raw Veggies
So you do veggies that can be 'seared' even though it probably won't be. But garlic & onion first. Then others like green pepper, red pepper, etc.
If you used canned or jarred veggies, I would wait and add that in step 4. This is mainly for raw vegetables.
Step 3: Water
You want to look at the packaging of your rice to get the proper ratio of rice to water; however, usually, for white rice, it's 2 parts water for 1 part rice.
So 2 cups of rice would be 4 cups of water.
If you added, or are planning to add, other liquids, you want to figure that in your water.
So say you want to add a can of beans with its liquid stuff, then subtract the amount of bean liquid you used from the amount of water you use. It doesn't have to be perfect, but you know, a can of beans probably has a little less than half the can of liquids, so add maybe 3.5 cups of water instead of 4. I personally prefer to drain and rinse the beans.
Step 4: Other Ingredients
Add anything else you got to the water and mix it all up.
Note about Seasoning Arroz con Gandules
You season as you go. Like you can add the meat with Adobo. Then add veggies and more Adobo or the Sazon or both, and then add the rest of the ingredients, some sofrito, and maybe more Sazon or Adobo. You gotta feel it.
I unfortunately do not have any Puerto Rican ancestors, though my ex husband would sometimes yell "Ya Cono" at me but not usually in regards to my seasoning. Look. I'm gringa. A very white gringa from the hillbilly rolling hills of West Virginia. I'm country AF with a lil hood. I add salt and pepper and butter to everything and think that's seasoned. I do not, and have not, ever, not even in my dreams or wildest imagination, put raisins in my potato salad. HOWEVER, I do get a little shy on the seasoning, then when I try to correct myself, I go overboard and my kid won't eat it.
So if you don't have any ancestors of color, like me, I don't, then my advice, is go Italian. Think of Sofia from Golden Girls and how she'd make her marinara sauce simmering all day. She had a wooden spoon. She kept taking bites while it cooked just to see if it's cooking right or if it needs, in all its cliche glory, more oregano.
So that's my advice to you young white women out there attempting to cook when it comes to the seasoning. You gotta taste the food to see what seasoning it needs as you cook it. Or ask someone to if you're sick.
In this case, with any rice recipe that entails the 20 minute rice, because everything is watery, season on the light side, and then stir, and let it cook half way and then taste it. Adjust at that point.
There's also just adding a bit and not giving AF. Sometimes I have days. Ok.
Note: The rice will be a bit slimy if you dump the beans with the juice the beans are in. If you want to avoid that, you may want to dump the beans into a strainer first, rinse with water, and then add that. That will also reduce sodium.
Step 5: Bring to a boil.
Once you add all the ingredients, bring the water to a boil. A slight boil. For like 1 minute. Maybe 3 minutes. Nothing too long.
Step 6: Reduce Heat and Simmer 20 minutes.
I move the heat to a medium low for electric stoves, and a low for gas stoves. Then Cover with a Lid.
You can check on it and stir every 5 minutes if you'd like. If you don't want rice sticking to the bottom of the pan, stir every 5 to 7 minutes. If you do want some burnt rice on the bottom of the pan (called pegao), don't stir it, and it helps to use an aluminum pot over an open flame, but I personally have made some awesome pegao in a nonstick on an electric skillet, but it's really an art at that point, like burning toast without ruining it.
This is great served with Chicken Emanadillas / Egg Rolls
While traditionally, Puerto Ricans make arroz con gandules with rice and pigeon peas, for the most part, any bean will do. I feel so Gen Z – BEANS! – UwU – but the idea is Puerto Rican Rice and Beans is the general, every-day concept or dish. Especially with red or pink beans. And this easy side dish is perfect for dinner and snacks, not to mention one of the easiest rice recipes you'll ever try.
Pin it for later!